Kara Choquette is director of communications and government relations for wind energy developer Power Company of Wyoming, as well as the TransWest Express transmission line project. Earlier this year, she joined the board of the Wyoming Energy Authority. She shared her thoughts about the Energy Authority and the role of renewable energy in Wyoming's future in a quick Q&A with the Outdoor Council.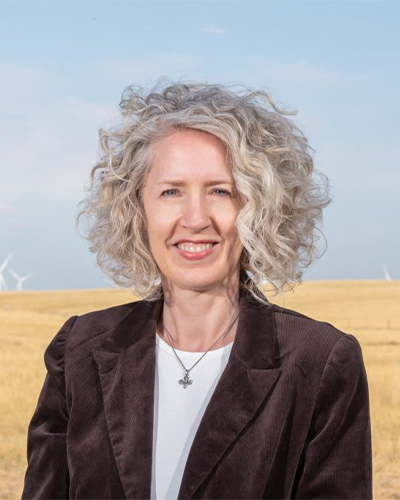 Share a little about your background, and your experience in the energy industry. What motivates you to work in the energy sector in Wyoming, and how did that lead you to serve on the board of the WEA?
I've been working directly in the renewable energy space since 2009. That's when I joined a company that is developing the nation's largest single wind power project, in Carbon County, Wyoming, and is also developing a major new interregional electricity transmission line for Wyoming. It was a natural career transition for me and a compelling opportunity after spending over a decade working in the technology and water industries – which each include important energy-related aspects. I liked the fact that wind turbines create electricity without requiring any water. Having grown up on a family farm/ranch, I wanted to help bring more kinds of good-paying, stable, family-supporting jobs to a rural area. And I liked that wind energy is compatible with agricultural operations and multiple environmental objectives.

I've been an active participant in some manner with the Wyoming Energy Authority and with one of its predecessors, the Wyoming Infrastructure Authority, since 2009. Recently, I've been part of two multi-stakeholder state groups – the governor's Platte Valley Mule Deer Local Area Working Group, and the University of Wyoming-led Renewable Energy Siting Collaborative. I was honored to join the WEA board because the WEA is at the forefront of "all things energy," in the nation's top Energy State, during a fascinating period of energy opportunity and evolution.
How do you see renewable energy fitting into the future of Wyoming's economy and way of life?
To me, renewable energy is entirely consistent with Wyoming's pioneering and pathfinding DNA. Wyoming's history is filled with so many stories about developing new trails, exploring diverse opportunities, and responding creatively and decisively to changing markets and conditions. Renewable energy also can help maintain Wyoming's longstanding leadership as an energy producer and exporter. The completion of the Union Pacific Railroad in 1869 opened up new access to new markets for otherwise-stranded resources in Wyoming, such as coal produced from Wyoming's original coal-mining county (Carbon County). Similarly, new high-voltage interregional transmission lines will open up access to new markets for otherwise-stranded clean electricity resources in Wyoming. The state does not have in-state demand for all of the abundant mineral and non-mineral resources it can provide. When new non-mineral power plants can compete and can secure customers out-of-state, that will create more new energy jobs and new sources of energy revenues in-state.
What are your hopes for your time with the Wyoming Energy Authority? What would you like to see WEA achieve?
The Wyoming Energy Authority is a relatively new entity, created by the state in 2019 (via Senate File 37). The WEA's primary purpose is straightforward: "diversify and expand the Wyoming economy through improvements in the state's electric and energy transmission infrastructure and facilitate Wyoming's production, development and transmission of energy and associated natural resources." I would like to be part of the WEA continuing to grow and achieve its purpose, especially in areas related to the clean energy technologies that are increasingly in demand today and in the near future. I hope to add value by bringing diverse expertise specifically in the renewable energy sector, and an enthusiasm for other important energy aspects like energy efficiency. The WEA is fortunate to have an outstanding executive director, smart and dedicated staff, and top mineral and non-mineral energy experts who have been on the board since its inception; I'm glad to be part of this team.
Alan
Rogers
Communications Director
Staff