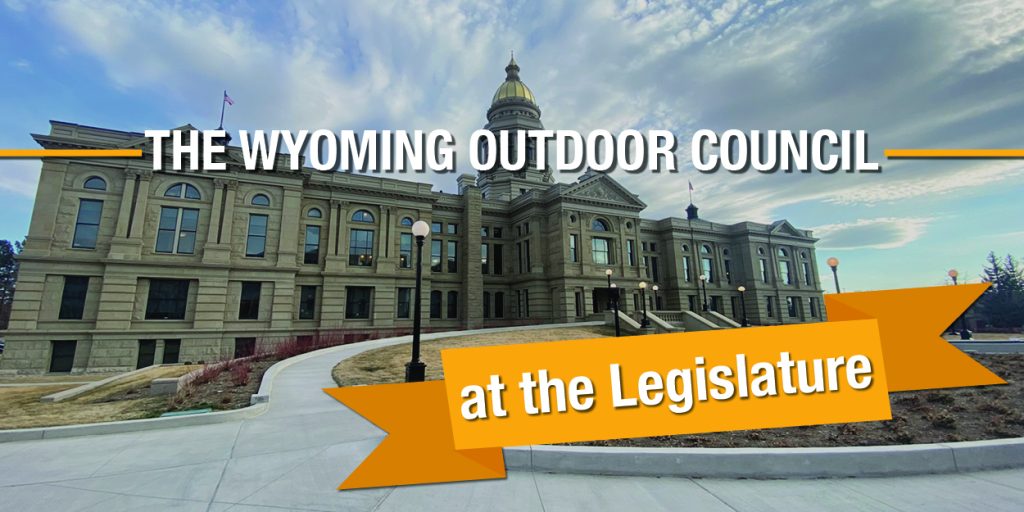 The Wyoming Legislature's 2023 general session runs from Jan. 10 to March 3, and lawmakers will confront a lot of new faces (including 29 new representatives and five new senators), a $913 million budget surplus, and perhaps as many as 700 individual bills. During this 40-day sprint, legislators will craft, debate, and pass legislation that can impact Wyoming's communities, economy, environment, and quality of life for years or generations to come.
You can read our preview of the session here to learn more about how the Outdoor Council will be engaged in Cheyenne, as well as how you can get involved and make your voice heard at the Capitol. The bill tracker below will be updated weekly to show you what bills we're actively lobbying for or against, as well as bills we're watching but have not yet taken a stance on.
2023 Bill Tracker
BILLS WE SUPPORT
HB0003 State assessment of independent power producers
HB0048 Active transportation and recreation grant program — failed in committee on Jan. 12
HB0074 Outdoor recreation trust fund
HB0147 Unlawful trespass signage-taking of wildlife
HB0193 Carbon capture energy standards-repeal
SF0028 Livestock infectious disease control-tribal inclusion
SF0029 Brucellosis management updates
SF0031 Adjacent land resource data trespass-repeal
SF0058 Sutton archaeological site administration
SF0087 Natural resource funding – large project threshold increase
SF0106 2023 Large Project Funding
BILLS WE OPPOSE
HB0069 Coal-fired facility closures litigation funding-amendments
HB0126 Trespass – removal of trespasser
HB0163 Mineral royalties-proportional severance tax refunds
SF0092 Small customer electrical generation
SF0142 Carbon Capture and Sequestration
SJ0004 Phasing out new electric vehicle sales by 2035 — failed in committee on Jan. 16
BILLS WE'RE TRACKING
HB0016 State land leasing-improvements
HB0020 Land exchanges-priority
HB0021 State lands-use of land qualification requirements
HB0022 State land lease deficiencies-cure process
HB0060 Colorado river authority
HB0061 Source material associated with mining-agreement
HB0083 Tribal agreements to hunt and fish
HB0084 Regulation of commercially guided boats
HB0093 Omnibus Water Bill – Construction
HB0106 Eminent domain-wind energy collector systems
HB0114 Leasing and sale of state lands-amendments
HB0123 Collection of antler or horns by residents and nonresidents
HB0124 Electricity generation-taxation
HB0133 Electrical installation by licensed electricians
HB0178 State land parcels-event hosting
HB0190 Wyoming value added energy and industrial plan
HB0196 Wyoming infrastructure protection act
HB0210 Financial institution discrimination
HB0213 Energy production inventory exemption
HB0217 Trophy game animal-change to large carnivore game animal
HB0242 Consumer merchandise-packaging regulation prohibitions
HB0255 Game and fish-partners
HB0257 Mine permit and reclamation plan changes-landowner approval
HB0275 Highway maintenance equity-electric vehicle metering.
HB0282 Critical infrastructure resiliency
HB0288 Electrical generation tax and rebate program
SF0033 Defining aircraft for purposes of hunting prohibitions
SF0034 Trespass by small unmanned aircraft
SF0056 Prohibiting travel across private land for hunting purposes
SF0060 Nonresident hunting license application fees — failed in Senate on Jan. 12
SF0105 Utilities-point of consumption and allocation agreements
SF0107 Acquisition, exchange and sale of trust lands
SF0128 Transfer of state lands-exchange
SF0140 Building code requirements-refrigerants
SF0154 Energy authority project financing-refineries
SF0156 Oil and gas forced pooling-good faith negotiations
SF0157 Weed and pest mitigation-tribal inclusion-2
SF0159 Stop ESG-Eliminate economic boycott act
SF0170 Specifying additional beneficial uses of water
SF0172 Stop ESG-State funds fiduciary duty act
SF0180 Corner crossing-trespass exception
SJ0001 Act Of Admissions Amendment Resolution
CONSERVATION VOTE REPORT
After each session, we publish our Conservation Vote Report, where you can see how your legislators voted on conservation issues and find analysis of the year's most significant bills.
Here's a look at the past few years' reports so you can compare legislative issues and your representative's votes, year over year.
GET INVOLVED
As in year's past, whether in person or virtually, the Wyoming Outdoor Council will be here to make sure you have a voice for conservation at the Capitol. Since our founding, we've advocated and defended a range of conservation issues at the legislature that matter to Wyomingites, families, and communities, and that protect the Wyoming we love. Read our citizen's guide below for more tips, tricks and resources for staying engaged during the session, the interim, or anytime in between.