50th Anniversary Celebration
and Citizen Advocacy Summit
Celebrate the Wyoming Outdoor Council's 50-year legacy and learn how to stand up for Wyoming's future. Stay tuned throughout 2017 for details as we host events across the state, and be sure to reserve your tickets for the weekend of September 22-23 in Lander! Festivities will include a free community concert, workshops, great local meals, and a chance to connect with the conservation community across Wyoming.
Among the festivities planned for our 50th Anniversary Celebration & Citizen Advocacy Summit is the chance to bid and win any of these impressive items below, as well as 30 other amazing Wyoming items! While silent auction bidding is available online until the event begins, you'll want to make sure you're there in person to place your bid at the Lander Community Center when the silent auction continues on Saturday, September 23!
Visit our auction page to view all items and bid online: bit.ly/WOCauction
Excited about the event, but hoping to save some money on registration? We're looking for a few good folks to help ensure the event runs as smoothly as possible. Head over to our signup page and find a spot to volunteer—you'll receive a discount code for 50% off all ticket types! Better yet, folks who sign up for two slots will receive a 100% discount on all ticket types!
For more information, head over to signup.com.
We will provide childcare on Saturday, September 23 from 10 a.m. to 12 p.m. and again from 5 p.m. to 9 p.m. for kiddos under 10. Contact Amy Rathke at (307) 332-7031 x16 or
by e-mail
with any questions.
Community Concert
Friday, September 22, 5:45-9:00 p.m. Lander Community and Convention Center – Lander, Wyoming
We're kicking off our anniversary weekend on September 22 with a free community concert in City Park featuring Low Water String Band and Jalan Crossland. All are welcome! In addition to great music, the evening will feature local food and drink vendors and a community mural project sponsored by the Lander Art Center, facilitated by local artist Virginia Moore.
MORNING EVENTS – Saturday, September 23
Lander Community & Convention Center
Saturday morning will be focused on celebrating the Outdoor Council's 50-year legacy and connecting the conservation community across Wyoming.
7-8 a.m. Breakfast – Enjoy baked goods, coffee, and tea from the Lander Bake Shop.
8-9 a.m. State of Conservation in Wyoming – We'll take a look back at the Outdoor Council's 50 years of conservation leadership in Wyoming. We'll also discuss current Wyoming conservation issues, challenges, opportunities, and strategies.
9-9:45 a.m. The Next 50 Years: Innovative Thinking for the Future – Help us to identify the most pressing conservation issues around the state and discuss strategies for effective leadership—Wyoming Style.

Youth Art Activities
8-10 a.m.
Youngsters ages 3 to 10 can stop by the Art Room where the Lander Art Center will provide nature-inspired art activities.
Workshop Block #1 – 10 A.M.-12 P.M. Saturday Morning
Lander Community & Convention Center
During our morning workshops, you'll have a chance to build your skills as citizen conservationists. Reserve your tickets for these workshops soon, as space is limited!
Citizen Advocacy in Today's Political Climate
Join a diverse panel of 5 policy experts and state legislators to explore how to be effective as a citizen advocate. This panel will focus on making a difference in the legislative process. Panelist include WOC's lobbyist, Steff Kessler, community activist Paige Smith, Phoebe Stoner from Equality State Policy Center, and Wyoming legislators Senator Cale Case from Lander and Representative Eric Barlow from Gillette. We'll learn tips from past successes, examine some creative citizen engagement tactics, query elected officials about what gets through to them and highlight a range of opportunities to make a difference with the time you have.
Drawn to the Outdoors Part I: Field Journal and Observational Sketching Basics
*This workshop is full at this time!*
Join Bethann Merkle of CommNatural for an introduction to field journal sketching. Learn how to translate your observations into visual illustrations—novices and skilled artists welcome! This workshop includes a field-ready, professional quality sketching kit ($30 value).
Storytelling: The Science and Psychology of Constructing a Conservation Narrative through Videography
Join Jeremy Roberts of Conservation Media for a discussion of conservation storytelling. We'll take a look at a variety of case studies designed to increase understanding of a conservation topic and lead to change. What works? What doesn't?
Conservation Journalism Roundtable
1 – 3  P.M.
Join Wyoming writers, reporters and media professionals as they discuss current environmental issues and the media's role in Wyoming conservation. Participant list coming soon.
LUNCH – 12 P.M.-1P.M.
Lander Community & Convention Center
Join us for a tasty sit-down lunch served in the convention hall.
Workshop Block #2 – Saturday Afternoon
Lander Community & Convention Center
In the afternoon, we'll put the morning's workshops into practice by getting out on into local landscapes and engaging in further discussion.
We Are All in This Together! Public Involvement & Agency Receptivity
1 – 2  P.M.
Public involvement can be both rewarding and frustrating. The goal of this panel is to explore the potential best management practices of public involvement for both agencies and the public. This will be a round table discussion for investigating how we can communicate better.
Storytelling: Harness your Smartphone Videography Capabilities to Construct Short Films
1 – 3 P.M.
Jeremy Roberts of Conservation Media will walk you through the gadgets and apps that can be added to your smartphone to increase quality and range of video capabilities. We'll go over the step-by step process in making a short film and get to share tips and tricks. Make sure to bring your smartphone and any equipment you have!

Drawn to the Outdoors Part II: Field Journaling on Red Butte
1-4 p.m.
*This workshop is full at this time!*
Open to participants from Drawn to the Outdoors Part I. Join Bethann to put the skills learned in the morning workshop to use. Bethann will provide instruction on drawing specific subjects such as trees, clouds, and rock features while exploring this beautiful local landscape.

Red Butte Hike
1:30 – 4 P.M.
Join Wyoming Outdoor Council staff members and hike up Red Butte, the iconic peak located 6 miles from Lander. Hosted by Wyoming Outdoor Council member and former staff Molly Absolon.

Evening Events – Saturday, September 23
Saturday night will be a fun evening at the Lander Community and Convention Center.
Tickets are available for this portion of the event only. We'll see you there!
Tom Bell Memorial Cocktail Hour
5-6:00 p.m. Tom Bell Memorial Cocktail Hour co-hosted by High Country News Two complimentary drink tickets included with Full Weekend registration. Otherwise, drinks available for purchase.
Join us at the Community Center to raise a glass in honor of our founder, Tom Bell, who passed away in 2016. We'll share favorite memories and take a moment to reflect on his powerful legacy as conservationist, decorated World War II veteran, and Wyoming hero.
APPETIZERS by Lick Skillet Catering
Acorn Squash and Black Bean Empanadas
Roasted Veggie and Goat Cheese Crostini
Sliced Cucumber topped with Edamame Hummus
COCKTAILS, CRAFT BEERS, & WINE by Cowfish
Signature cocktails
VIDI VERDE ginger, basil, vodka, lemonade
BROWN & GOLD DERBY honey, grapefruit, whiskey, sage
Craft beers
JACK MORMON PALE IPA, Lander Brewing Company
ATLANTIC CITY GOLD German-style ale, Lander Brewing Company
Red wines
KAIKEN RESERVA Malbec, Argentina
INDIAN WELLS Cabernet Sauvignon, Washington
White wines
COSTA DE LIMA Vinho Verde, Portugal
EVOLUTION Sokol Blosser, California
Harvest Dinner
6:00 p.m. Harvest Dinner
Red Wines
KAIKEN RESERVA Malbec, Argentina
INDIAN WELLSCabernet Sauvignon, Washington
White Wines
COSTA DE LIMAVinho Verde, Portugal
EVOLUTION Sokol Blosser, California
LOCALLY SOURCED SALADS
Roasted Beet Salad with toasted walnut, gorgonzola & fresh herbs
Roasted Carrot Salad with toasted almonds, goat cheese vinaigrette & fresh herbs
Kale Salad with roasted butternut squash and lentils
NAAN with Za'atar seasoning
CREAMY PARMESAN POLENTA
FENNEL-CRUSTED GRILLED PORK TENDERLOIN
MALBEC BRAISED LEG OF LAMB
served with
Chimichurri – A classic Argentine rough chopped herb salsa
Salsa de Peperone – A tangy smoked paprika sauce with roasted red peppers, garlic, vinegar, honey & fresh herbs
APPLE COBBLER
Conservation Awards
| | | |
| --- | --- | --- |
| The Tom Bell Legacy Award will be presented to Yvon Chouinard, founder of Patagonia, to recognize his continued defense of public lands and his support for conservation groups in the West. | The Conservation Leadership Award will be given to Brian Rutledge, vice president of Rocky Mountain Audubon, for his work on sage-grouse conservation in Wyoming and in the Rocky Mountain West. | The Civic Action Award will recognize Michael Burd and his leadership role in citizen efforts to protect the Wyoming Range. |
8:00 p.m. Keynote Address by Gina McCarthy, EPA Administrator under President Obama
A career public servant in both Democratic and Republican administrations, Gina McCarthy has been a leading advocate for common sense strategies to protect public health and the environment for more than thirty years. As the head of Environmental Protection Agency under President Obama, she led historic progress to achieve the administration's public health and environmental protection goals and Climate Action Plan.
Known for her pragmatic approaches and disarming, plain-speaking style, McCarthy has earned the respect of the environmental, public health and business communities with her thorough understanding of all sides of climate, air quality, chemical safety, environmental justice and health equity, and water, land and natural resource protection and restoration discussions. A gifted communicator and strategist with a talent for making environmental issues nonpartisan, highly personal, and solidly backed by science and the law, McCarthy is consistently credited with finding common ground and forging sustainable, common sense solutions.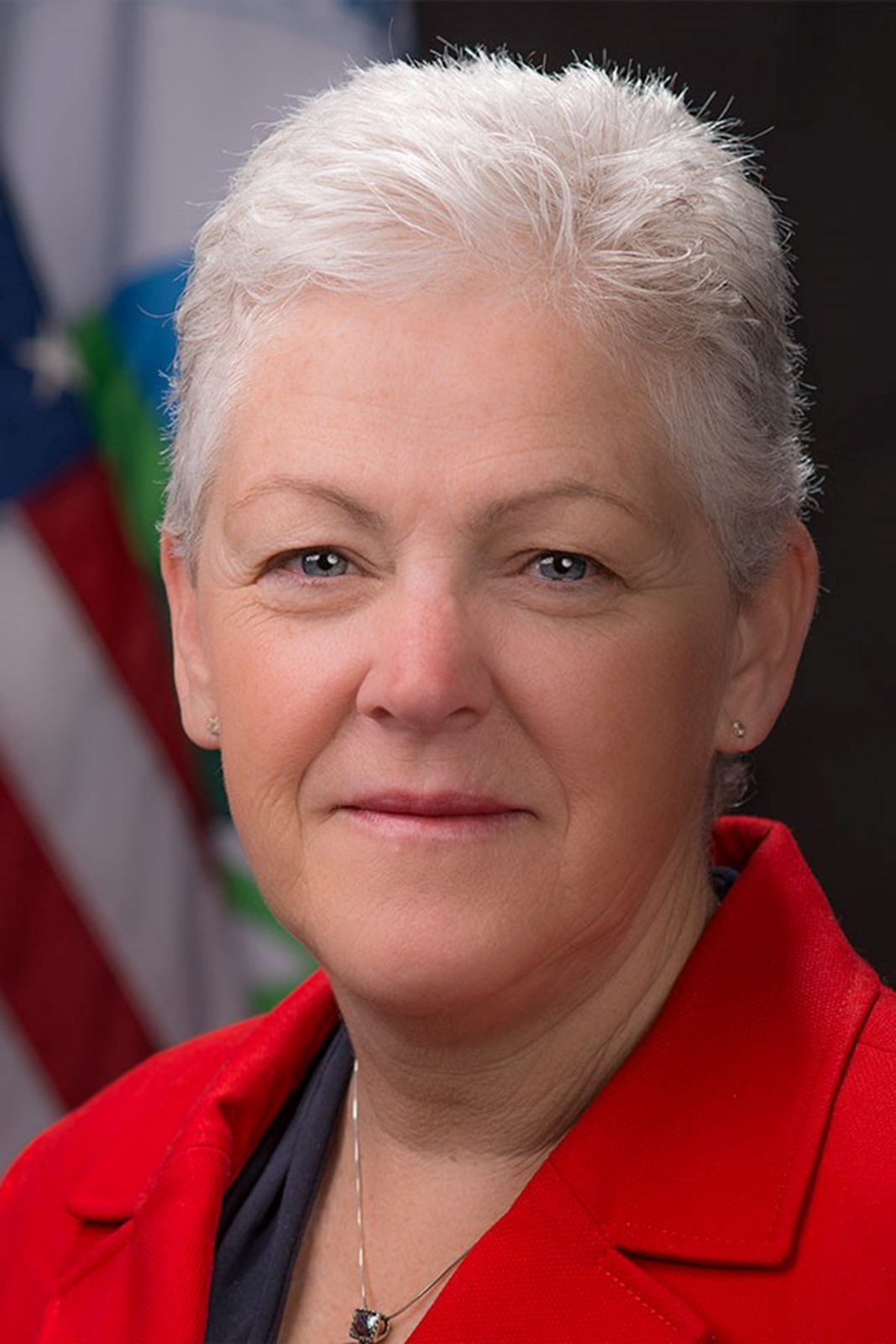 Many thanks to our generous sponsors!