We all know that Wyoming is a special place. We are fortunate to live in a state where we can recreate on mountaintops, marvel at open vistas, watch wildlife roam, and take a moment to connect with the land and one another. Over half of Wyoming is public land, and all of it is the ancestral homeland of Indigenous people. It deserves to be celebrated.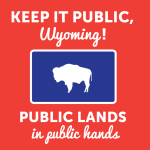 This Saturday, Sept. 24, offers the perfect opportunity to do just that as the state marks the fourth annual Wyoming Public Lands Day — which was established by the state legislature in 2019 thanks to the work of the Keep it Public, Wyoming coalition.
Wyoming Outdoor Council staff and our partners at NOLS and Wyoming Wilderness Association will be out in the Red Desert, hosting the eighth annual Run the Red trail races. If you're joining us, I look forward to seeing you! If not, I encourage you to get outside with friends or family to celebrate everything Wyoming offers us.
Whether you are camping in the Bighorns, riding your bike through Vedauwoo, or hunting pronghorn in the Great Divide Basin, the Outdoor Council wishes you a very happy Wyoming Public Lands Day. It is also important to acknowledge that all public land was once Tribal land. Remember to visit with respect as many of these places are sacred to the distinct Tribal nations that have both historical and contemporary connections to Wyoming's public lands.
Be safe and responsible. Have fun. Give thanks.
P.S. Vedauwoo's name comes from Biito'owu', an Arapaho word for Earth.
Kyle
Elmquist
Engagement Coordinator
Staff