I've been lucky to be able to spend several days this summer in the northern Red Desert, sharing this phenomenal place with representatives of state and federal agencies, local governments, and Sweetwater County residents. We admired the desert's remarkable views together, had rich discussions, and saw plenty of big game—including desert elk, trophy mule deer, and pronghorn bucks. No matter how many times I visit, I can't say it enough: the northern Red Desert is a spectacular place.
To help you get out into this landscape and experience its wonders, we've created this newly released travel guide, which is flying off the shelves. It explains how to get into the Wilderness Study Areas for Honeycomb Buttes, Oregon Buttes, and Whitehorse Creek. If you don't have one, be in touch and we'll mail one to you! It'll fit right in your glovebox and features travel tips and detailed driving directions for each of these three spots, all of which are an easy drive from Lander, Rock Springs, or Pinedale.
This summer we picnicked beneath the aspens, kicked around in the dunes, and gazed across the Great Divide Basin with government and agency officials who are working closely with the Bureau of Land Management on its land-use plan revision for this area. Most of the northern Red Desert is off-limits to oil and gas development, and we want to keep it that way—because just some places are appropriate for development, other places, like the northern Red Desert, should simply never be developed because of their incredible wildlife, ecological, and recreational values. We also want to ensure other industrial activities, like big wind farms, don't damage this landscape. Getting out of the office so we could shoot the breeze with these officials has facilitated constructive dialogue and everyone has learned from each other while enjoying the outdoors. The better we understand each other's points of view, the more hope we have for a durable and balanced plan.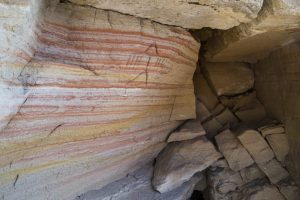 We hosted our final summer field tour on September 9, but keep an eye out next spring for more guided trips to the northern Red Desert badlands, buttes, and dunes. We hear every day from people who want to take another tour, who think fondly of those they've been on, and who have returned to the desert on their own to find elk, fossils, adventure, and solitude. There's nothing like discussing the ecology, geology, and history of the desert while exploring it. If you can't wait until the spring, check out our online, interactive map, which discusses all the remarkable areas of the desert and includes stunning images that will inspire you to explore.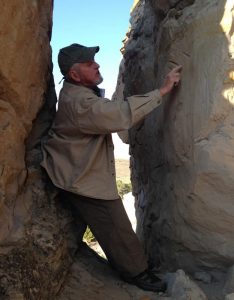 As we finished our tour last Saturday, we saw a few bow-hunters—recreation and hunting in the desert is a major boost for local economies, as a recent report has revealed. For the first time, researchers have quantified the economic impact of "quiet" recreation on public lands around Rock Springs and Green River. This new report, which was commissioned by The Pew Charitable Trusts, found that "in 2015, more than 483,000 visitors used these landscapes for non-motorized recreational activities, contributing $22 million to the local economy." It also concluded that this quiet recreation adds 285 jobs to the region, which is great news in a time when economic diversification will be key for Wyoming's future. We were excited, too, to help connect local business owners, like State Senator Liisa Anselmi-Dalton and Rock Springs Chamber of Commerce CEO Dave Hanks, with media outlets covering this story.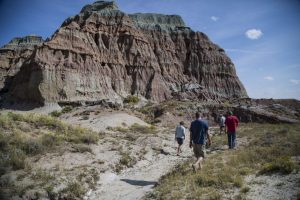 Beyond our field tours, we continue to help citizens in the area understand how to be involved in the decisions federal land management agencies make—and we advocate the Wyoming Outdoor Council's mission tirelessly. Along with this area's land-use plan revision, we are tracking a number of other public land issues happening in Sweetwater County, such as the Fontenelle Dam Project, Bitter Creek Watershed Study, and the Ashley National Forest plan revision (which includes the Flaming Gorge). These are all important to the people here in southwest Wyoming, and to others who come from elsewhere to enjoy these landscapes. We will let you know when the time comes to speak up on these things as well. Until then, happy fall and keep enjoying your public lands!
Claire
Cella
Graphic Designer
Staff