By Janice H. Harris
President of the Wyoming Outdoor Council board of directors
Each year, the Emily Stevens Book Fund, sponsored by the Wyoming Outdoor Council, invites Wyoming county libraries to select a title from a list of terrific books, all focused on natural history and the environment.
Last year, I shared the 2011-2012 list. Many of you enjoyed it, so here is the list for 2012-2013.  As usual, in researching the titles, I often turn to the recommendations of the selection committee for the National Outdoor Book Award.
I am grateful to Sophie Osborn, the Wyoming Outdoor Council's wildlife biologist and wildlife program director, for her invaluable assistance.
Adult Titles
Balog, James and Terry Tempest Williams. Ice: Portraits of Vanishing Glaciers (Rizzoli, 2012). ISBN 0847838862

Initially, I went in search of a DVD of the film "Chasing Ice." Not surprisingly, none is yet available. But this powerful collection of photos from the
Extreme Ice Survey is. A reviewer for the online magazine Urban Times gives a succinct description of the background and accomplishment of the survey, this book, and the just-released film. "In 2007, Balog launched the Extreme Ice Survey (EIS), a long-term photography survey designed to make the invisible visible and give a 'visual voice' to the planet's changing ecosystems. This EIS imagery is providing a baseline for revealing the geological impact of climate change and other human activity. It's art as well as science: the project's single-frame photographs capture the stunning beauty, architecture and enormity of ice formations. As a result, you can witness these amazing sights in Balog's new book, ICE: Portraits of Vanishing Glaciers. The 288-page coffee table book with a cause features 200 color photographs revealing the astonishing geological formations found in arctic and alpine landscapes at the far reaches of the world. Wise observations from environmental writer Terry Tempest Williams open the book, which is beautifully formatted by top-tier art-book publisher, Rizzoli."
Chamovitz, Daniel. What a Plant Knows:  A Field Guide to the Senses (Scientific American/Farrar, Straus, and Giroux, 2012). ISBN 978-0-374-28873-0

A glance at the table of contents gives a clue as to the wonder and fun of this book. Chapters one through four follow this pattern: What a Plant Sees,
Smells, Feels, Hears. Chapter five: How a Plant Knows Where It Is. Chapter six: What a Plant Remembers. Epilogue: The Aware Plant. Thinking New Age silliness? Think again. Professor Chamovitz is the director of the Manna Center for Plant Biosciences at Tel Aviv University, has been a visiting scientist at Yale, and has published segments of this book in Scientific American. And he is a mighty fine writer. Listen to a bit from "What a Plant Smells." This comes from a section about the leaves on a lima bean plant, an attack by insects, and an experiment indicating "olfactory eavesdropping:"

"The results were significant because they revealed that the gases emitted from an attacked leaf are necessary for the same plant to protect its other leaves from future attacks. In other words, when a leaf is attacked by an insect or bacteria, it releases odors that warn its brother leaves to protect themselves against imminent attack, similar to guard towers on the Great Wall of China lighting fires to warn of an oncoming assault" (43).

And then Chamovitz asks about neighboring lima bean plants. Can they eavesdrop by smell? They can. "What exactly is the lima bean smelling when its neighbor is eaten? Eau de lima…." Of course. And no surprise, it "is a complex mixture of aromas"  (43). Spoiler alert: in a section called "The Deaf Plant," Chamovitz tells us that scientific studies "have concluded that the sounds of music [though possibly not other types of sound waves] are truly irrelevant to a plant" (86). Pass that along to any cannabis growers you know. Chamovitz's inviting prose is complemented by very helpful illustrations from a wide range of sources.
Deurbrouck, Jo. Anything Worth Doing: A True Story of Adventure, Friendship, and Tragedy on the Last of the West's Great Rivers (Sundog Books Publications, 2012). ISBN 0985257806
This was the 2012 National Outdoor Book Award winner in the category of "History/Biography."

Apparently, the motto of whitewater raft guide Clancy Reese was "Anything worth doing is worth overdoing." And that leads him and Jon Barker on
some wild rides. I did not have access to this book, so I will let the NOBA reviewer give us the scoop: "Jo Deurbrouck brings to life the story of two men who launch a small wooden dory in the roiling waters of Idaho's Salmon River. Their plan was to float all night and all the next day in an attempt to set a 24-hour speed record. In this highly creative and exceptionally well written account, Deurbrouck traces the lives of these two men: one an aging, bear of a man, a Vietnam era veteran and sometimes recluse river guide whose past includes boxing and ballet dancing; and the other a fit, young man, a rising star among river runners, full of ideas and ambitions. They put on the river in peak flood and are flung downstream, maneuvering their small boat through churning rapids, dodging boiling holes, and fending off massive logs caught in the current with them. You'll find yourself glued to the pages as Deurbrouck deftly steers the narrative to a building climax. This is an impressive piece of work and a welcomed addition to river literature and lore" (NOBA review 2012).
Gill, Charlotte. Eating Dirt: Deep Forests, Big Timber, and Life with the Tree-Planting Tribe (Greystone Books, 2011). ISBN 978-1-55365-977-8

One of first things you notice when you start reading Charlotte Gill is her wit. Given the title and the cover of the book, she
had me initially skimming here and there to see where these dirt-eating, tree-planting folks live. I figured remote Brazil. Not at all. When not planting trees in Cascadia, from February through October in the Pacific Northwest, Gill lives in Vancouver writing award-winning short stories. It shows. I loved Eating Dirt. I now want to read Ladykillers, winner of the British Columbia Book Prize for fiction. How can a book about being wet, filthy, bitten, and exhausted be such a joy to read, such a page turner, such a rich introduction into the history and current practices of the timber industry of the northwest? This is a gem.
Haigh, Jerry. Of Moose and Men: A Wildlife Vet's Pursuit of the World's Largest Deer (ECW Press, 2012). ISBN 978-1-77041-091-6

Haigh was born in Kenya, is a Glasgow graduate veterinarian, and has practiced across the globe. He is also a good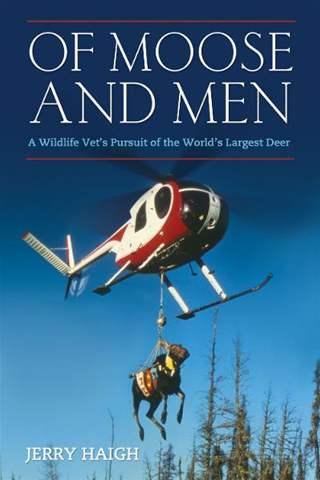 storyteller. Previous books include The Trouble with Lions: A Glasgow Vet in Africa and Wrestling with Rhinos: The Adventures of a Glasgow Vet in Kenya. If you have friends interested in moose, this is a rich read. Haigh's style moves easily between the scholarly and folksy–both in a good sense. In the category of scholarly, his chapter "What's in a Name" explores Cree culture, the Algonquian language group (moshwa is one of several words, in Cree, for what English speakers call moose), controversies within the field of moose taxonomy, and two very different origin stories answering the question of how moose got to North America. Haigh offers an abundance of photographs, interesting characters of the human and moshwa kind, and lively, memorable anecdotes.
Harris, Adam Duncan. Bob Kuhn: Drawing on Instinct (University of Oklahoma Press, 2012). ISBN 978-0806143019

Disclosure: my son is listed as the author of this book. Many writers and artists
contributed to the project; he produced it as curator at the National Museum of Wildlife Art and will not gain from any purchases. I'm including it because Bob Kuhn was a magnificent artist of wildlife and this is a beautiful book. This collection of his sketches shows his capacity, over years of practice, to inhabit the bodies and worlds of the creatures he sketched, painted, sculpted. I'll step back and let the book description provided by the University of Oklahoma Press say the rest:
". . . 'For those of us who portray wildlife . . . our decision to persist in our quest for excellence is almost always based on a love affair, a fascination with the creatures of our planet, and a need to share this feeling the best way we know how.' So said wildlife artist Robert Kuhn (1920–2007), who spent a lifetime sketching and painting animals, and generously mentoring other artists. Bob Kuhn: Drawing on Instinct presents a generous sampling of his rarely seen sketches alongside the vibrant paintings for which he is best known. Appearing in conjunction with a traveling exhibit mounted by the National Museum of Wildlife Art, in Jackson, Wyoming, this book allows readers to observe the artistic process of one of the greatest wildlife artists of our time."
Haskell, David George. The Forest Unseen: A Year's Watch in Nature (Viking Penguin, 2012). ISBN 978-0-670-02337-0

2012 National Outdoor Book Award winner in the category of "Natural History Literature."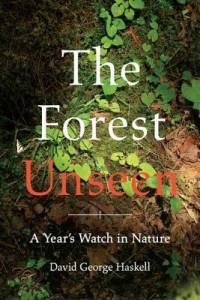 What a fine choice, what a beautifully conceived book. Structuring his book around 43 very brief chapters (e.g., March 13th–Snails; March 25th–Spring Ephemerals; April 2nd–Chainsaw; April 2nd–Flowers; April 8th—Xylem (a type of wood cell that forms tubes that help move water up the trunk of a tree), biologist Haskell brings a wealth of knowledge, an observant eye, and a beautiful writing style to one square meter of old growth Tennessee forest. He contemplates it in the spirit with which a Tibetan monk creates and contemplates a mandala—a small sand-poured representation of the entire world. Here is the opening to March 13th—Snails:
"The mandala is a molluskan Serengeti. Heads of coiled grazers move across the open savanna of lichens and mosses. . . . I lie down on my belly and creep up on a large snail that sits at the edge of the mandala. I lift the hand lens to my eye and shuffle closer" (51).
Each chapter moves from an opening observation—more or less intimate—to a rich conversation on the biology of what's there, right in front of Haskell, right in front of us. It's brilliant, it's delightful.
Juriga, John D. Bob Hines: National Wildlife Artist (Beaver's Pond Press, 2012). ISBN 978-1-59298-440-4

You may know more about Bob Hines than you think. That was true for me. In 1946 he designed the first Federal Duck Stamp, and then managed that
competition for more than 30 years. As a long-time employee of the U.S. Fish and Wildlife Service, Hines furthered the work of the service through his talent. Written by a remarkable sounding man himself—Dr. Juriga is a practicing pediatrician in upstate New York, curator of two major exhibits of wildlife art, and increasingly, a valuable historian of the 20th century conservation movement—this biography reveals key moments and collaborations (think Rachel Carson and Bob Hines) in that movement. If you have friends who are Duck Stamp collectors, or competitors in the Junior Duck Stamp competition, or simply interested in the history of conservation, this book is a find. Hines is described as an ordinary man who had an extraordinary curiosity, talent, and influence on 20th century Americans' views of our natural heritage.
Lentfer, Hank. Faith of Cranes: Finding Hope and Family in Alaska (The Mountaineers Books, Seattle WA, 2011). ISBN 978-1-59485-639-6

This is a brave and beautifully written book. Lentfer's memoir faces up to the grief and anger that he, and his father
before him, feel at the despoiling of their small rural acreage near Glacier Bay, Alaska, and by implication the rest of the modern world. We read of the loss of habitat, species, and sheer beauty. Feeling as though he is fighting losing battles, Lentfer often recalls a despairing comment from a professor of ornithology he had in college: "Progress is the inevitable diminution of beauty over time" (12). It seems the bitter truth. But grief, anger, despair do not have the last word: rather, they bear witness to the courage it takes for Lentfer to incorporate them into a fuller view, one that includes awe, intelligent compassion, commitment. What the sand hill cranes have done for eons, he can do. Writes Lynn Schooler, "the cranes call to each other, teach their young the route, and make the journey. It is this lesson of faith the author takes to heart, as his world opens up and be begins his own journey into fatherhood."
Roberts, Suzanne. Almost Somewhere: Twenty-Eight Days on the John Muir Trail (University of Nebraska Press, 2012). ISBN 9780803240124

Roberts' book is the 2012 winner of the NOBA prize in the category of "Outdoor Literature."   
It sounds like an earthy book in a fascinatingly unconventional sense. As former director of Women's Studies at UW, I've been fretting a bit at the potential comparison between this account of outdoor adventuring and that of Jo Deurbrouk's (above). Best to think apple vs. orange. I did not have access to this, so I offer the NOBA review:  
"In the summer of 1993, author Suzanne Roberts and two other women set out on a month-long backpack trip in California's Sierra Mountains. Almost Somewhere is Robert's introspective and no-holds-barred account of that journey and the interactions between the three women. What emerges is a revealing and insightful coming-of-age portrait of women of the post baby boom generation. Roberts obsesses with her weight, competes openly with other women for men, and grapples with conflicted views of sex and relationships. One of the other women struggles with bulimia. This is life in an outdoor setting from a feminine perspective: anxiety over strange men met along the way and the challenges of long days on the trail — can Robert's weakening knees and the health of her bulimic friend hold up to the end? The dialog, the imagery, and the story are so well done and so absorbing that men and women of all generations will find it a satisfying and fulfilling literary treat."
–NOBA review 2012.
Titles for Younger Readers
Asper-Smith, Sarah and Mitchell Watley. I Would Tuck You In (Sasquatch Books, 2012). ISBN-13: 978-1570618444
I did not have access to this book aimed at toddlers, but what I could see of the illustrations and style impressed me. Here is a brief blurb from the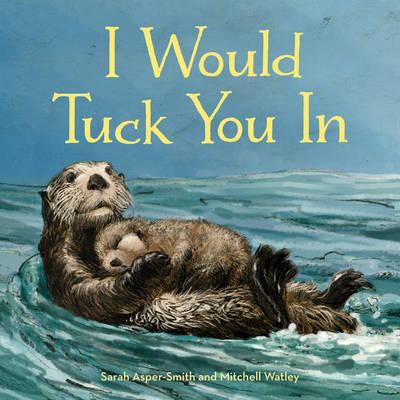 publisher: "Just how far will a mother go for her baby? To the ends of the earth, of course. Follow along as Alaskan mother animals reveal the ways in which, above all else, they love their babies for just who they are. A book that's sure to both comfort and delight toddlers." The Juneau Empire review gives a bit more information: "The book is a fine balance of playful and endearing. It's concise while still being educational. And for a four-year-old with the attention span of a gnat, it has it all: bright illustrations that are life-like, instead of cartoonish; enough variety to stave off boredom and no wording that is so long the wiggles set in. From page one, the book introduces readers to the wildlife of our northern region. There are snowshoe hares, bowhead and humpback whales, brown bears, caribou, little brown bats, boreal owls and arctic terns, just to name a few. Each animal is highlighted with a distinguishing feature and a little fact. Those little animal facts are part of what makes the book a success, I think. They add an opportunity for education and allow the book to be read to a broader range of young audiences. The illustrations, too, are a learning opportunity. They are detailed and lifelike, showing each of the animals in their typical habitat. Even the musk ox look cold in their frozen tundra scene… In all, I'd say it's a triumph for this creative husband-wife team."
Bahn, Sarah Leith. The Ancient Realm. Illustrated by Karen Dugan (CreateSpace Independent Publishing Platform, 2011). ISBN 978-1468124019

Bahn's book was recommended by a friend who had read it to his daughters and found it captivating. His enthusiasm is shared by reviews from teachers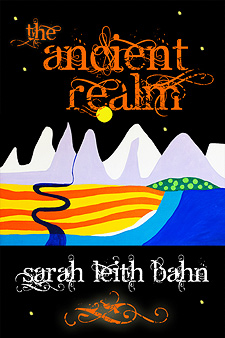 and young readers. Here is Marie Brown, President and CEO of Brown Publishing Network: "Agnes Adelaide Fordyce, an ordinary eleven-year-old girl, finds her life plunged into adventure one cold fall evening when a mysterious new babysitter named Octavia comes to visit. Her life in Blue Rocks Harbour, Nova Scotia, once filled with tedious chores from her German Nanny and teasing from her older twin brothers, is changed forever when she is introduced to the Ancient Realm, a secret society of Guardians who protect the precious natural resources of planet Earth. The first book in a new fantasy series by Sarah Leith Bahn, The Ancient Realm combines a look at the beauty of our planet with timely concerns about our global ecosystems. . . . Through Octavia, Agnes also learns about herself, and how important it is for each of us to dream, to appreciate the world around us, to fight for what we care about . . . and to believe." And here is Victoria Hubler, Oregon Public School Teacher, Corbett Schools: "Ms. Bahn's book is a fabulous, engaging story for young people and adults alike. Readers will revel in Agnes's courage as she discovers her own inner strength and battles to save the natural world. I will most definitely share this book with my class of third, fourth, and fifth graders and am looking forward to more from Ms. Bahn in the near future."
McDonnell, Patrick. Me . . . Jane. (Little, Brown Books for Young Readers, 2011). ISBN-13: 978-0316045469
A winner of a Caldecott Honor Award and many other "best book" awards, this book (for ages 1 and up!) tells the story of Jane Goodall. McDonnell is an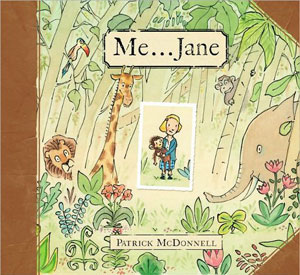 internationally syndicated cartoonist. A reviewer for the New York Times writes: "McDonnell's skill . . . enables him to express Goodall's joy, wonder and satisfaction with a simple stroke of the pen." The School Library Journal describes it as a "tender homage… engaging… an appealing and satisfying introduction to a well-known scientist and activist." And the book description on Amazon says: "In his characteristic heartwarming style, Patrick McDonnell tells the story of the young Jane Goodall and her special childhood toy chimpanzee named Jubilee. As the young Jane observes the natural world around her with wonder, she dreams of 'a life living with and helping all animals,' until one day she finds that her dream has come true. . . . With anecdotes taken directly from Jane Goodall's autobiography, McDonnell makes this very true story accessible for the very young–and young at heart."
Other posts you might want to see:
West Edge
Collective
Staff