Join us as we explore and celebrate the open spaces and wild places that make us proud to call Wyoming our home. Here are the outdoor and indoor major events planned for 2011.
Explore the Wild Fifteenmile Basin
Saturday, June 4, Bighorn Basin
Celebrate National Trails Day with an outing into the remote and often overlooked center of the Bighorn Basin. The Fifteenmile Basin is a scenic and delicate area of vast sagebrush, salt desert, and badlands. We'll explore the Bobcat Draw Badlands, a portion of rugged and uniquely eroded formations within the Fifteenmile drainage. Local geology and native plant gurus Claire and Rick Dunne will lead us on a three-mile hike.
Space is limited so please RSVP as soon as possible.
RSVP deadline: Friday, May 20.
Red Desert Rendezvous
Saturday, June 18, Rock Springs
While the Outdoor Council is not hosting this outing, we are providing support for the event as part of our efforts to heighten awareness and conservation protections for Wyoming's spectacular Red Desert.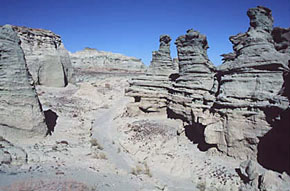 This weekend rendezvous will offer at least three phenomenal guided tours: (1) A plein air painters campout (Friday night) near the Honeycomb Buttes. (2) A journey into colorful Adobe Town. (3) And an iconic landscapes loop with stops at Boar's Tusk, the Killpecker Sand Dunes, and the White Mountain Petroglyphs.
Upon return from the tours, there will be a catered dinner during a keynote presentation, followed by a panel discussion.
Rock Springs Party
Friday, June 24, Rock Springs
Meet and mingle with the Wyoming Outdoor Council staff, board of directors, members, and friends at an informal gathering. Food and drink are on us.
Ride the Red
Saturday, August 27, northwestern Red Desert
Keep the tradition alive and come along for our annual mountain bike ride in the Red Desert. Enjoy the opportunity to experience one of the last intact high-desert ecosystems in North America, and tour the iconic Jack Morrow Hills.
Join us as a participant and/or a volunteer!
RSVP deadline: Monday, August 8.
Volunteer Day: Laramie River Restoration Project Saturday, September 10, Laramie
Last year we yielded record results working on willows, so we look forward to volunteering again with the Laramie Rivers Conservation District. This will be the final year of a three-year plan to restore river habitat.
RSVP deadline: Monday, August 29
Jackson Party
Friday, September 17
Join us for a party in Jackson, where we will celebrate our successes and rejuvenate for our ongoing and upcoming challenges.
Laramie Open House
Friday, November 11, Laramie
Come out for a casual evening of conversation and good food and drink with Wyoming Outdoor Council staff, board of directors, members, and friends.
Lander Holiday Party
Friday, December 9, Lander
join us to celebrate with our members and friends!
FOR UPDATES:
Watch your mailboxes and check our website: wyomingoutdoorcouncil.org/html/act/events
OR Contact:
Jamie Wolf, outreach coordinator jamie@wyomingoutdoorcouncil.org, 307-721-7610
West Edge
Collective
Staff