A FEDERAL LAND MANAGEMENT PLAN for southwestern Wyoming — which most observers assumed would be completed during the final days of President George W. Bush's administration — has yet to be published.
And correspondence sent to the Wyoming Outdoor Council this week confirms the Bureau of Land Management's Kemmerer resource management plan is still in play, and could still be modified before the agency issues its final record of decision.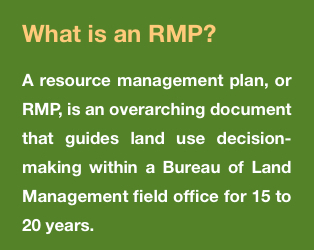 The Outdoor Council believes the Kemmerer plan, as drafted in 2008, has some serious inadequacies — most notably its failure to follow a precedent of balance set by the recently revised Pinedale resource plan revision.
Bureau of Land Management Director Robert V. Abbey wrote to the Wyoming Outdoor Council, in a letter received on Tuesday, that the BLM's Kemmerer field office is still finalizing its responses to protests of the 2008 draft plan, and will be working "with the BLM Washington Office, and the Department [of the Interior] prior to signing" the final plan.
In contrast to the proposed Kemmerer plan, the new Pinedale plan, finalized in 2008, designates nearly 50 percent of the BLM lands in the Pinedale field office as unavailable for future oil and gas leasing, in order to protect such things as pronghorn, elk and mule deer migration corridors, critical wildlife habitat and recreation opportunities.
But the latest Kemmerer plan would make less than 15 percent of its public lands off-limits.
The Kemmerer area, similar to the Pinedale region, contains crucial wildlife habitat and critical migration corridors that should be afforded some protection, the Council believes.
The Outdoor Council is asking land managers to work to achieve a greater balance between open spaces and industrial energy development in western Wyoming.
For a copy of Robert V. Abbey's recent letter to the Wyoming Outdoor Council click here.
For the Wyoming Outdoor Council's September 29 response to Abbey's letter, click here.
For the Wyoming Outdoor Council's original letter to Secretary of the Interior Ken Salazar, click here.
Media Contact: Bruce Pendery, Wyoming Outdoor Council, 435-752-2111, bruce@wyomingoutdoorcouncil.org
West Edge
Collective
Staff