CODY-AREA RESIDENTS are concerned that a popular hiking, hunting, and mountain biking spot east of town could become industrialized with oil and gas development, if the federal Bureau of Land Management doesn't do more to safeguard the area's natural heritage.
The BLM approved a wildcat drilling operation in June—the so-called Rocktober project—in the picturesque McCullough Peaks area 18 miles east of Cody, adjacent to a wilderness study area, and near a citizens' proposed wilderness area.
The Wyoming Outdoor Council and others received an official BLM state director review of the approved plan, and as part of this review the Outdoor Council's Bruce Pendery testified before the state director during a hearing on Friday in Cheyenne.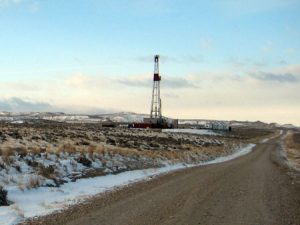 Joining Pendery in testimony were representatives from the Greater Yellowstone coalition, the Biodiversity Conservation Alliance, Friends of a Legacy, and an area resident who runs wild horse tours where the development is proposed.
The appellants asked the BLM to increase protections for the area's wildlife, its air quality, its recreation opportunities, and its aesthetic beauty.
As a result of the ongoing review, the BLM could modify its directives for the project and upgrade its environmental protections for the area.
The Wyoming Outdoor Council is asking the BLM to require phased development in order to protect the area's clean air. The Council is also asking the agency to do everything in its power to limit the potential visual damage to the area, and to compel the developer to employ techniques that reduce the use of drilling fluids, and that better protect sage grouse and other wildlife.
"The BLM listened to our concerns very patiently and politely and we felt they were fully and fairly considering our arguments. We appreciated that," Pendery said. "Let's hope October is a good month for Rocktober."
BLM State Director Don Simpson is expected to issue his decision within 30 days.
(Photos by Hilary Eisen.)
West Edge
Collective
Staff