WYOMING OUTDOOR COUNCIL MEMBERS and friends got together for a bicycle ride in the Shirley Basin this weekend and visited the Rocky Mountain Power 7 Mile Hill Wind Farm, as well as the newly approved Dunlap Phase I & II wind farm, which Rocky Mountain Power will begin constructing this fall.
Laurie Milford, executive director of the Wyoming Outdoor Council, participated in the ride. She said it was a good opportunity to experience the landscape firsthand, and to see an operating wind farm, along with a proposed wind farm site, up close.
"It was a gorgeous day," Milford said. "It was great to be able to see those two sites, and it was interesting to
hear everyone's concerns about wildlife, and also to learn about some of the technical issues related to the transmission of wind-generated electricity."
The Outdoor Council's Richard Garrett organized and led the event. Garret said the newly approved Dunlap wind farm will be adjacent to existing transmission lines, which the developers will upgrade and use. The developers will also be upgrading an existing electrical substation nearby.
"If they would have had to construct a new substation and new transmission wires, the project might not have been feasible," Garrett said.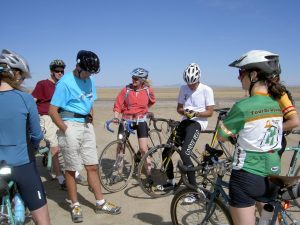 The bicycle ride spurred a lot of conversation about the benefits, challenges, and potential problems associated with industrial-scale wind energy development, Garrett said.
"I think everybody learned something new and saw things from a different perspective, and in turn that stimulated other ideas and new questions," he said.
West Edge
Collective
Staff