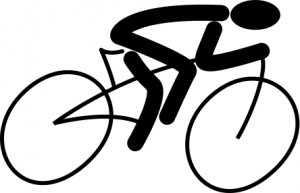 WE'RE EXCITED ABOUT OUR UPCOMING road bike ride in the Shirley Basin, one of our Heritage Landscapes. We hope you can join us!
Friday, Sept. 18: There will be an optional camping opportunity in the Shirley Mountains.
Saturday, Sept. 19: We will meet at 9 a.m. at the Virginian Hotel and Cafe in Medicine Bow.
The scoop:
Friday night we will primitive camp in the Shirley Mountains at the Prior Flat campground. I will be there around noon on Friday and will reserve as many campsites as possible—but remember, it's hunting season and the rule is "first come, first served."
Directions to the Prior Flat campground:
From State Highway 487, 22 miles north of Medicine Bow, take the State Highway 77 turnoff.
Proceed nine miles to Carbon County Road 102.
Head west two miles to BLM Road 3115 or continue another seven miles to the western junction of BLM Road 3115 at Prior Flat Campground. (BLM Road 3115 is a loop road through the Shirley Mountains.)
Saturday's ride:
On Saturday, Sept 19, at 9:30 a.m. we will meet at the Virginian Hotel and Cafe in Medicine Bow (which is at the intersection of Highways 287/30 and 487).
We will arrange ourselves, review some safety tips and then head west on Highway 287/30 going about 10 miles to the Rocky Mountain Power 7 Mile Project Wind Farm.
This will give us a chance to see, from the road, what an industrial-scale wind project looks like. Then we will head back east to Medicine Bow, planning to arrive there around 11:30 a.m.
We will have lunch at the Virginian (optional) and afterwards ride north on Highway 487 about 10 miles to the site of the newly approved Dunlap Phase I & II wind farm that Rocky Mountain Power is to begin constructing this fall. This will give us a chance to see both the "after and before" of visual impacts resulting from wind farm development.
We will then head back to Medicine Bow. We should be done no later than 3 p.m. This will give us a chance to check out the Virginian once again and share ideas and stories about the ride and what we've seen.
If you plan on camping, please remember you must be self-sufficient (food, water, tent, sleeping bag, necessities). If you plan to have lunch at the Virginian, cash or a credit card will be needed.
For the ride, please plan on any kind of weather and bring—at minimum—the following:
Multi-speed bike (a road bike is best)
Helmet
Sunglasses
Sunscreen
Warm clothing
Cool clothing
Water, water, water
We should average around 12-15 miles per hour, which is a nice easy pace. Don't worry if you're a little faster or slower, we promise not to leave anyone behind.
If you want to join us for lunch, or for just part of the ride—no problem! Just let me know and we'll look for you.
This promises to be a great outing and we're really looking forward to it. Please let me know if you have any questions about logistics or arrangements. I will have some valuable information about the Shirley Basin including its geology and wildlife. See you there!
Sincerely,
Richard Garrett
West Edge
Collective
Staff