We have great news on the Shoshone National Forest! As a result of a national-level review, the United States Forest Service has issued instructions that the Shoshone manage Francs Peak, Wood River, and the Dunoir areas to retain their wild, backcountry characteristics.
Earlier this year we objected to last-minute changes to the Shoshone's new revised forest plan, which would have allowed motorized use in Francs Peak and Wood River and would have weakened protections for the Dunoir. The Forest Service itself identified these three areas as having the very highest wilderness potential on the forest, and while none has yet been recommended for wilderness, all will now be managed to safeguard their values, which include some of the finest wildlife habitat and recreational landscapes in Wyoming.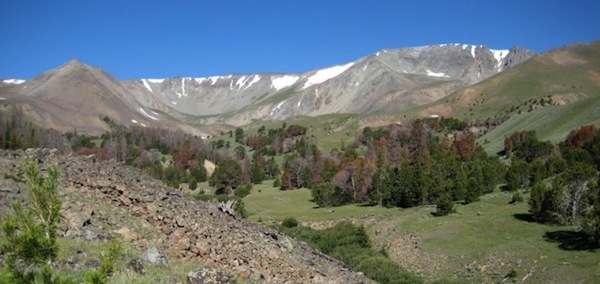 Francs peak and the surrounding land is considered one of the highest ranked potential wilderness areas by the Shoshone National Forest. Photo: Brian Sybert
As many of you know, the existing forest plan was finalized in 1986 and the process to revise it has been a long one. The Wyoming Outdoor Council has been at the table from the start and with the support of our members we have worked hard to ensure that the Shoshone's backcountry character is protected.
Much of our focus during this plan revision has been to ensure strong safeguards are in place to avoid impacts from oil and gas surface development. We were extremely pleased that in the final draft plan the vast majority of the Shoshone has been deemed "unsuitable" for this use. We anticipate these good revisions will remain.
We are grateful the Forest Service listened to our concerns about Francs Peak, Wood River and the Dunoir and are excited that these protections will be incorporated into the final forest plan. We will be sure to update you when we know more.
Happy holidays,
Lisa McGee, program director
Lisa
McGee
Executive Director
Staff