The grand opening of a new World War II bombardier display at the Lander Pioneer Museum, featuring donations from Wyoming Outdoor Council founder Tom Bell, will take place on Saturday, August 2.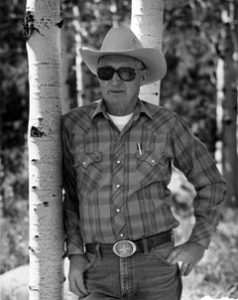 The public is invited to a reception at the museum from 10:30 a.m. to noon. Light refreshments will be served. Everyone is welcome to attend.
Tom Bell grew up on a ranch outside of Lander during the Great Depression. He was descended from Civil War soldier Edward Alton, who moved to Milford, Wyoming, in 1878.
Bell is a decorated World War II veteran, who flew with the 15th of the U.S. Army's Air Forces on bombing missions throughout central and southern Europe. He successfully completed 32 combat sorties and earned the rank of 1st Lieutenant with the 455 Bombardment Group.
He was awarded the Silver Star for gallantry in action on May 2 1944. On May 10, 1944, Lieutenant Bell was bombardier of a B-24 on a mission to bomb an enemy aircraft factory in Austria, when he was severely wounded by a burst of flak, causing him to lose his right eye and suffer shock and loss of blood.
When he returned home he found sanctuary in Wyoming's wide-open spaces. Bell attended the University of Wyoming where he earned a bachelor's and then a master's degree in wildlife conservation and game management. His course of study emphasized ecology and zoology.
Bell said he founded the Wyoming Outdoor Council because, by the mid-1960s, he could no longer ignore the threats facing his "beloved homeland."
He has now donated his medals, uniform and other items to the Lander Pioneer Museum.
"This display is in recognition of Tom's illustrious service to his country," said Randall Wise, visitor service coordinator for the Pioneer Museum. "We also want to honor him for all his work at this museum and in the service of the history of the Lander Valley. If it wasn't for Tom's years of dedication and research, much of the history of this area would be lost."
Bell's artifacts will become part of the museum's armed forces exhibit on the second floor.
"This is a great addition to our museum," said Curator Connie Shannon. "It's especially significant since Tom is a Lander native. This display will tell his heroic story."
Tom taught science and Wyoming history in Lander for many years. He is also a renowned local historian and the former author of the Wind River Mountaineer.
For more information please call the museum at  307-332-3373.
West Edge
Collective
Staff