FOR IMMEDIATE RELEASE
May 9, 2013
Media Contacts:
Gary Wilmot, executive director, Wyoming Outdoor Council, 307-332-7031, gary@wyomingoutdoorcouncil.org
Chris Merrill, associate director, Wyoming Outdoor Council, 307-223-0071, chris@wyomingoutdoorcouncil.org
Wyoming Outdoor Council Announces New Executive Director
Board president: Wilmot was the 'unanimous choice'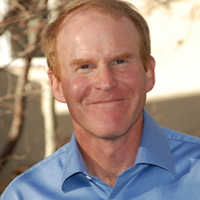 Lander, Wyo. — The Wyoming Outdoor Council board of directors has announced that Gary P. Wilmot has been hired to be the organization's new executive director.
Wilmot replaces outgoing Director Laurie Milford who held the post for the past six-and-a-half years. Milford and the Outdoor Council board announced in February that she was resigning as part of a "happy transition" in order to spend more time with her family.
Wilmot was the Outdoor Council's development director before being promoted to associate director in 2009.
Wyoming Outdoor Council Board President Janice Harris said she and the rest of the board are gratified and excited that Wilmot has accepted the offer to lead the organization.
"Gary was a key partner and advisor to Laurie throughout her tenure as executive director," Harris said. "He was our unanimous choice to fill the position. Gary has played a vital role in the Outdoor Council's management and strategy since shortly after he was brought on staff in 2008. He's a wise and talented leader and an outstanding mentor."
Wilmot also has a thorough understanding of the organization's budget, finances, strategic plan, and all of its programmatic work, Harris said.
"Gary has proven himself to be more than capable of filling the role of executive director," she said.
For his part, Wilmot said he is excited for the opportunity to represent the Outdoor Council's members and to "build on our great history of success."
"I'm proud to be a member of what I believe is the finest team in conservation," Wilmot said. "And I'm energized by the fact that this passionate, talented, and professional team remains in place."
Harris said that Wilmot and the board of directors are in full agreement regarding the direction of the organization, and are looking at this transition as an "opportunity to continue to navigate the course we've all plotted together over this last half-decade."
"The board and staff are committed to building on a tradition of hard work and hard-won achievements for the sake of Wyoming's environment and quality of life," Harris said.
The Wyoming Outdoor Council is Wyoming's oldest independent statewide conservation organization. It was founded in 1967 by Wyoming native and decorated World War II veteran Tom Bell. The Wyoming Outdoor Council's mission is to protect Wyoming's environment and quality of life for future generations. It is a nonprofit, donor-funded organization.
# # #
West Edge
Collective
Staff