In a world where wild, open spaces are rapidly disappearing, Wyoming is unique. We still have rugged, awe-inspiring public lands to explore. We have vast stretches of undeveloped land where mule deer, elk, and antelope migrate freely, where nearly half of the world's Greater sage-grouse live, and rivers and streams that support world-class native trout. The Outdoor Council works to ensure the sustainability of wildlife habitat, not only in response to development proposals, but also within long-term land management plans and through state and federal policy initiatives.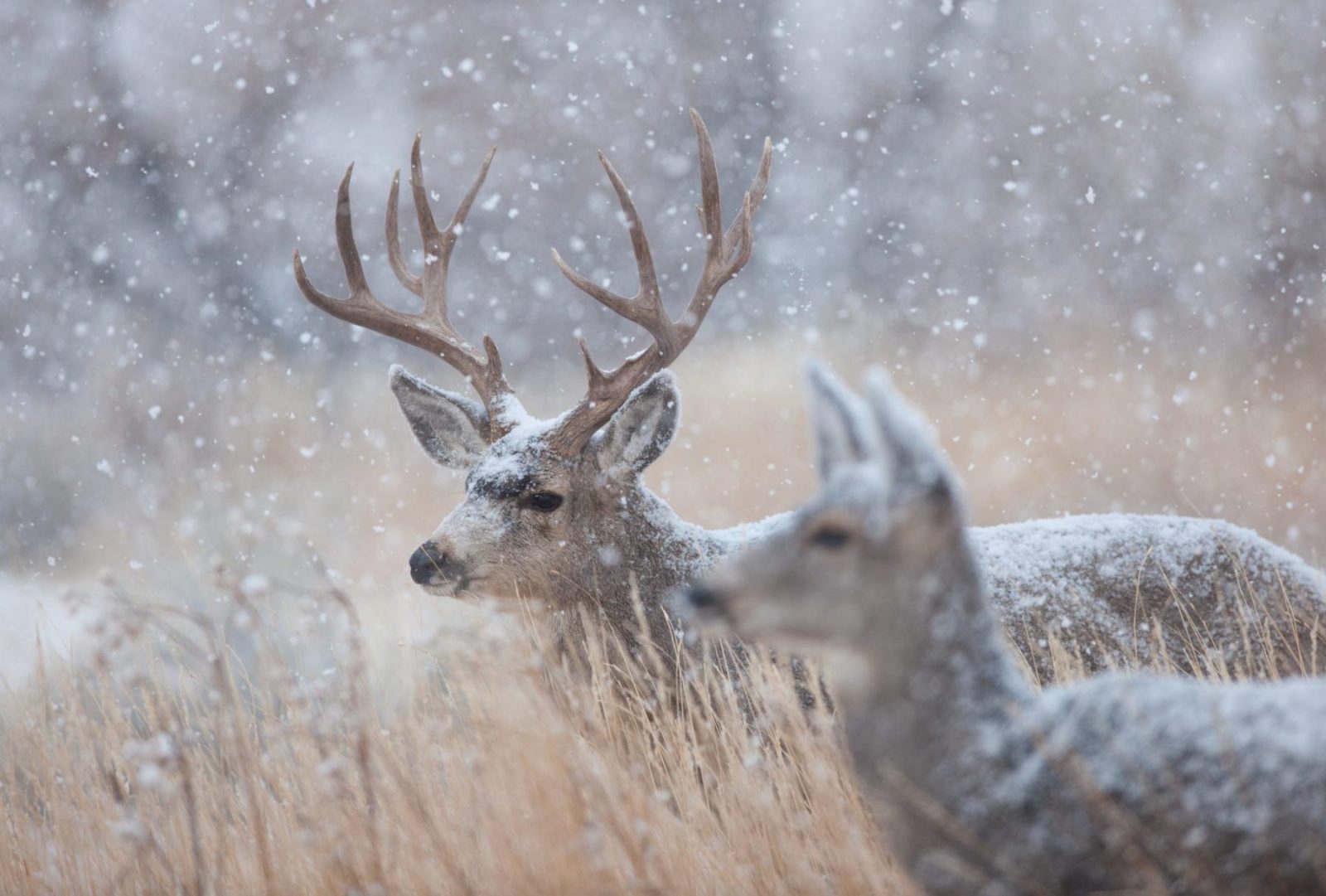 THE LATEST
Wyoming's mule deer population has dropped by more than 30 percent over the past three decades.
To make matters worse, the federal government continues to increase federal oil and gas leasing without regard to mule deer habitat. That's why the Outdoor Council has submitted a letter to the Bureau of Land Management asking to hold off oil and gas leasing in vital mule deer habitats until it properly implements protections based on new peer reviewed science.
The increasing body of science from research in Wyoming shows that mule deer stick to their migration routes more than other big game, and that they cannot adapt their migration strategy to avoid energy infrastructure and other human disturbance. These characteristics explain the link between energy development in important mule deer habitats, such as winter range and migration corridors, and broad declines in deer populations.
Once migrations are disrupted they may never be restored. Once we fragment and develop winter range, we can't make more of it. That's why we need to act now to protect critical mule deer migration corridors, stopovers, and crucial winter range.
As Wyoming citizens, we care about our deer. A recent poll shows that 91 percent of Wyomingites regard wildlife as an important issue they consider when voting. Hunting alone brings $300 million in revenue to the state each year; meanwhile, leasing in corridors only brought $51,899 last quarter.
The time to act is now. Let's get this right the first time, and protect our Wyoming mule deer herds.
Wyoming is the biological and political epicenter of both the historic effort to protect the Greater Sage-grouse and its habitat, and the current effort to defend these conservation measures. With its tens of millions of acres of sagebrush habitat, Wyoming is home to almost 40 percent of the world's Greater sage-grouse. Several years ago, Wyoming charted a collaborative and science-based path forward—identifying sage-grouse "core areas" where development would be limited. Neighboring states largely adopted Wyoming's model, as did the Bureau of Land Management. These actions averted listing of the bird under the Endangered Species Act. But this presidential administration's stated priority of "energy dominance"—which has resulted in the BLM fast-tracking leases on public lands, increased drilling in sage-grouse core habitat, and a lack of agency accountability—greatly threatens that habitat, along with the hundreds of species that rely on it. The Outdoor Council is playing a leading role to ensure conservation measures remain in place.
Much of our work results in sustained or better habitat for fish. From finding solutions to avert 136-gas wells from being drilled at the headwaters of the wild and scenic Hoback River, to working with anglers in Saratoga to address municipal waste in the North Platte, a blue-ribbon fishery, to efforts with Brooks Lake Lodge to clean up its antiquated sewage lagoons to help ensure we never see a repeat of the fish die-off that happened in 2008 downstream, the Outdoor Council is a leading voice for clean water and healthy fisheries. Today we're working to ensure proposed oil and gas development in Colorado River cutthroat trout habitat in the South Cottonwood drainage of the Wyoming Range only goes forward with rigorous safeguards.

LATEST BLOGS, NEWS & ACTIONS
These past few months, we've been asking the state to urge the Bureau of Land Management to take a more precautionary approach to oil and gas leasing in migration corridors until legally binding wildlife protections can be put into place. New and existing science...
read more