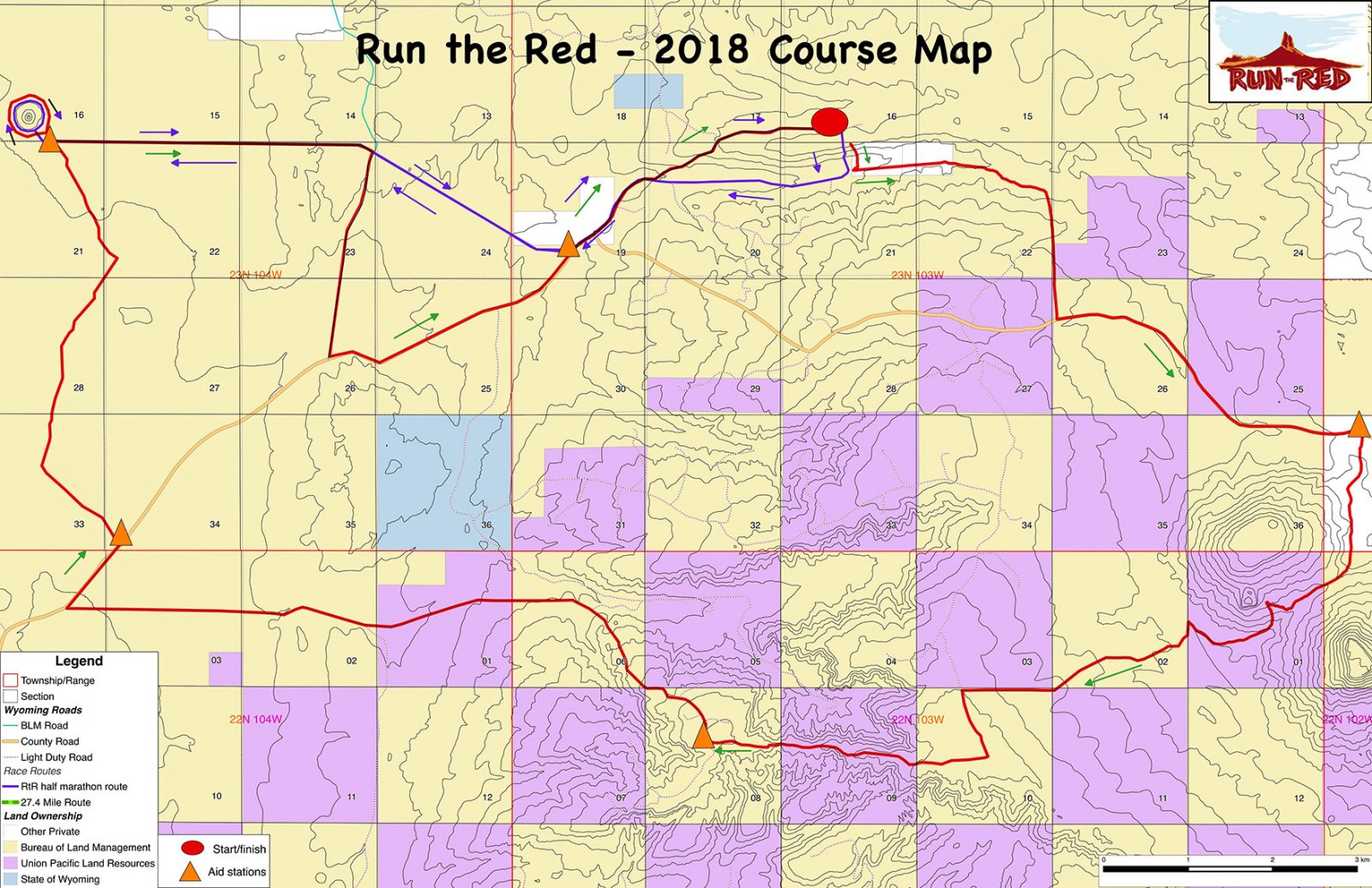 In 2018, we are excited to offer three unique adventures: a short 5K route, a 23K route that will circumnavigate the iconic Boar's Tusk, and a 50K route that will take runners through the stunning Pine Canyon. See below for the 23k and 50k routes and elevation profiles. All of the races will start and end at the Sand Dunes OHV parking lot, and all runners, not matter the distance raced, will experience the wide open spaces of the Red Desert while traversing this wild landscape. (Click for a PDF of the route map.)
Please come to the race prepared for inclement conditions: weather in the Red Desert can change quickly. Carrying a layer and water bottle on your person during the race is highly encouraged.
23K:
This year's mid-length race race starts at the Sand Dunes OHV lot, drops down a tall dune, and heads west towards the Boar's Tusk. A quick loop around the Boar's Tusk marks the halfway point of the race, which then returns east to the starting line. This race is run primarily on primitive two track routes, some of which cross sandy terrain. There are sections of improved, graveled county road.
23K Route Overview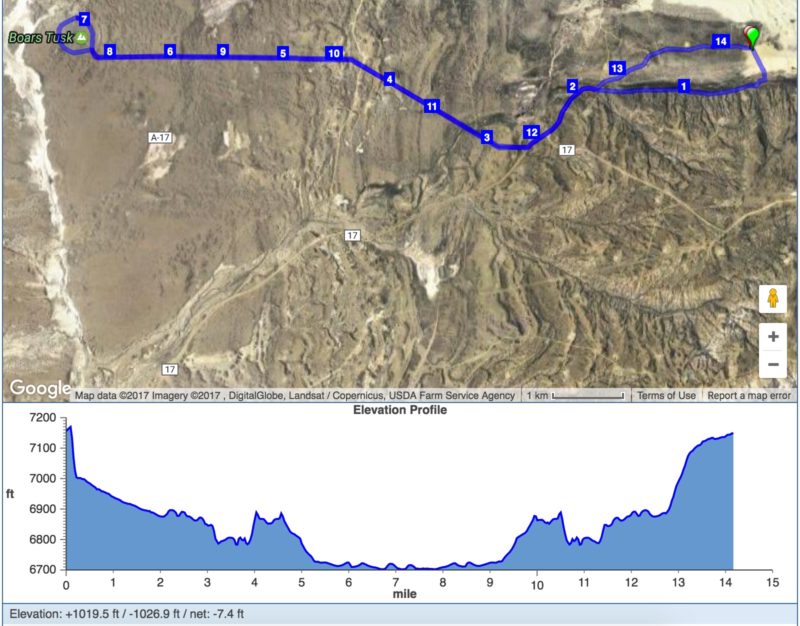 23K Aid Stations
| Aid Station | Mileage | Approximate Elevation |
| --- | --- | --- |
| 1 | 2.7 | 6870′ |
| 2 | 6.7 | 6700′ |
| 3 | 7.8 | 6700′ |
| 4 | 11.9 | 6870′ |
| Finish | 14.2 | 7150′ |
50K:
This year's longer race starts at the Sand Dunes OHV lot and drops down to the historic Crookstone Ranch. From there, it heads southeast toward North and South Table Mountains on two-track and graveled county road. It crosses between the Table Mountains on two-track, trending southwest to west, to drop into a scenic juniper-lined canyon. After dropping down through the canyon the course continues west for a short time before turning north, eventually circumnavigating the Boar's Tusk in the distance. The course returns to graveled county roads and, after traveling north for a short time, turns east and heads back towards the Sand Dunes OHV Parking Area and the finish line.
This course is run primarily on primitive, unmaintained, two-track routes with sections of maintained, graveled county road. Early in the course, be prepared to run down a sand dune and to cross small stabilized dunes interspersed on the two-track route. The early section, crossing a meadow and traveling west from Crookstone ranch, could be boggy. If conditions require, we may alter the course, which may affect the distance and will likely require more travel on improved roads.

50K Route Overview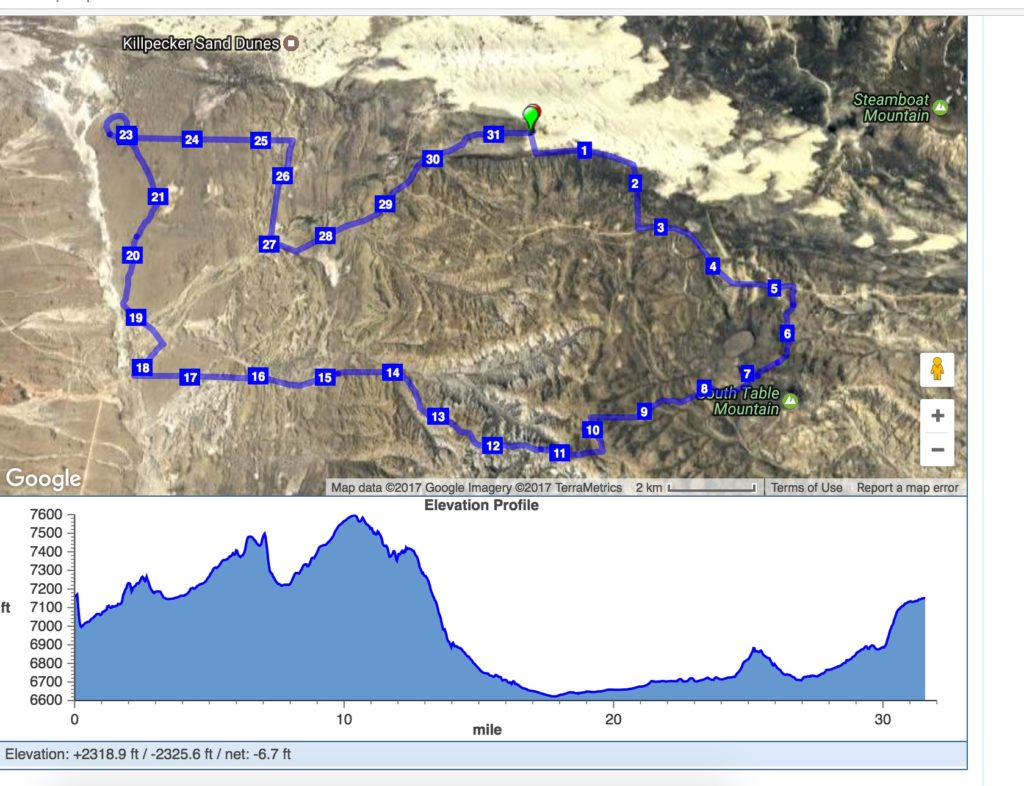 50K Aid Stations
| Aid Station | Mileage | Approximate elevation |
| --- | --- | --- |
| 1 | 5.3 | 7300′ |
| 2 | 12.2 | 7400′ |
| 3 | 18.4 | 6450′ |
| 4 | 22.0 | 6700′ |
| 5 | 23.0 | 6700′ |
| 6 | 29.2 | 6870′ |
| Finish | 31.5 | 7150′ |